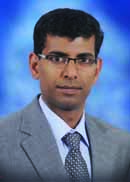 A. Manickavasagan, PhD

Founder and President
Whole Grains Research Foundation
Associate Professor
School of Engineering
University of Guelph
Guelph, Ontario, Canada, N1G 2W1
All over the world, non-communicable diseases are increasing at an alarmingly high rate. Most of the non-communicable diseases could be prevented through healthy diet and life style. Whole grains play an important role in healthy diets, due to its potential role in minimizing the risk factors for several diseases. The World Health organization is recommending 2-3 servings of whole grains on a daily basis. In Asia, where around 60% of the world population lives, grains are consumed mostly in refined forms. The outcome is visibly revealed in the health profile of people living in these areas. There is an urgent requirement to work together and promote whole grain consumption across Asia.
Whole Grains Research Foundation (WGRF) is a non-profit organization registered in Coimbatore, India during 2015. The aim of this foundation is to promote whole grain consumption among the people living in Asia through research and development. The functions of the foundation are coordinated through Regional Directors over six regions (South Asia, North Asia, East Asia, West Asia, South – East Asia, and Central Asia). Also eight whole grain and food experts around the globe are serving the foundation as Advisory Directors.
We strongly believe that the success of any research is primarily depending on motivation. Because of this reason, we are honoring 31 researchers or projects every year through WGRF Awards under the following categories:
Fellow of the Whole Grains Research Foundation
FWGRF (1 Award – Global)
Best Whole Grain Thesis
MSc (6 Awards : 1 Award / region)
Best Whole Grain Thesis
PhD (6 Awards : 1 Award / region)
Best Whole Grain Young Researcher (below 40 years)
(6 Awards : 1 Award / region)
Best Whole Grain Researcher
(6 Awards : 1 Award / region)
Best New Whole Grain Product
(6 Awards : 1 Award / region)
The foundation anchors at least one international conference each year, in which the awards will be distributed. In addition to that, distinct whole grain related activities such as workshops and seminars will be organized in several places.
Vision
Supporting Asians to lead a healthy life through a healthy diet
Mission
To be a valuable resource for promoting whole grain consumption in Asia through awareness, availability, and research & development
Foundation Activities
1.    Organize international whole grain conference every year to promote whole grain consumption and create awareness
2.    Motivate students, researchers, and industries to work on whole grains through "Wholegrains Research Awards"
3.    Promote companies to produce whole grain products and improve availability
4.    Promote researchers and students to work with local group and local products to improve whole grain consumption
5.    Encourage government organizations to make policies to improve whole grain consumption
6.    Encourage non-government organizations (NGO) to campaign for whole grain consumption
7.    Develop innovative campaign methods such as "message from regional popular person", CD, revival of regional heritage foods and so on in regional languages to motivate whole grain consumption
8.    Circulate newsletter with foundation activities to all participating, supporting and other organizations to update and create awareness.
If you can positively contribute to the foundation by any means, please do contact us. Also, the suggestions for the improvement of our activities will be greatly appreciated.