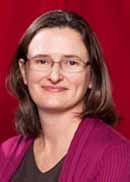 Dr. Valerie Orsat, PhD,
Associate Professor and Chair,
Department of Bioresource Engineering,
McGill University,
Ste-Anne-de-Bellevue, QC,
CANADA.
Dr. Valerie Orsat is Chair and Associate Professor in the Department of Bioresource Engineering on the Macdonald Campus of McGill University. She obtained her PhD from McGill University in 1999. From 1999 to 2007 Dr. Orsat coordinated the training activities of international developmental projects in postharvest engineering, first in China with the project "Microwave processing in China", and then in India with the project "Consolidation of Food Security in South India". Both projects were funded by the Canadian International Development Agency (CIDA). Since 2010 Dr. Orsat has lead an IDRC/CIDA project on the processing of millet grains in India.
Research Interests
Dr. Orsat's research program addresses the broad spectrum of quality changes that occur during various stages of postharvest handling and food and bio-processing. Beneficial compounds and secondary metabolites will be identified and approaches to enhancing their content and bioavailability in commercial foods will be considered. It is hypothesized that controlled application of various operative treatments can be used to stimulate the synthesis/conservation of primary and secondary metabolic compounds that are important in human nutrition and product preservation. The fate of these functional compounds during processing, extraction and purification will be studied.
The knowledge gained will be applied to the agri-food sector for:
Development of new products and processes in the ever growing nutraceutical and functional food sector.
Enhancement of nutritive value of traditional produce during handling and processing.
Better quality preservation of produce during handling (flavour, nutrient and phytochemicals).
Current Research
Development of processing methods for enhanced production, extraction and encapsulation of bioactive compounds for functional foods.