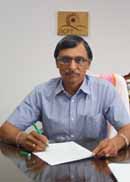 Singaravadivel, PhD,
Director,
Indian Institute of Crop Processing Technology (IICPT),
Ministry of Food Processing Industries,
Government of India,
Tanjore, Tamilnadu,
INDIA.
Dr. K. Singaravadivel (Dr. K. S. Vel) started his career in as a Scientist at the Paddy Processing Research Center (PPRC), Thanjavur in 1977. Since then, he has made significant contributions to the institute. Among them, the up gradation of PPRC to a National Level research-cum-teaching institution, theIndian Institute of Crop Processing Technology (IICPT) under the Ministry of Food Processing Industries, Government of India is commendable.Dr. K.S. Vel is presently the Director, IICPT. He completed his undergraduate degree from Tamil Nadu Agricultural University, Coimbatore and his post graduation and doctoral degrees fromAnnamalai University, Chidambaram. Apart from being an internationally renowned researcher in the field of paddy processing, Dr. K.S. Vel also has a rich academic and teaching background. He has guided over 30 under graduate students, over 20 post graduate students and 4 Ph.D. students.He is an expert member of several technical committees at central and state level and his contributions to the Food Corporation of India and Tamil Nadu Civil Supplies Corporation are outstanding. He has developed more than 40 technologies in the field of food processing, of which over 10 technologies are presently adopted commercially.He is an invited speaker at several research/scientific platforms, has delivered many radio talks and TV programmes and has offered technical consultancy to over 40 entrepreneurs.
In his 37 years of research experience, Dr. K.S. Vel had specialized in the field of food microbiology. He has 6 patents, 204 journal publications and 4 book chapters to his credit. During his career he has executed 40 scientific projects and 6 externally funded projects. Dr. K.S. Vel is the recipient of the prestigious Young Scientist Award of 1982, ICAR Team Research Award, Jyothi Award for Best Worker and several Best Research Paper Awards.